Welcome to Friends of the Bear River Refuge website. We encourage you to visit often to see the latest news and activities.
Our Mission
This group is devoted to the promotion, appreciation, and conservation of the wildlife, birds, and habitat of the Bear River Migratory Bird Refuge. Officially established as a not-for-profit charitable organization in 1998, we are partners with the U.S. Fish and Wildlife Service.
Upcoming Events
In observance of National Wildlife Refuge Week the Refuge and the Friends will be participating Walk for the Wild. Walk for the Wild is a national effort to demonstrate our commitment to deepening connections human connections with nature and to protect the ecosystems we depend on. 
Join us on October 8th between 10:00am and 4:00 pm to move a distance of 5k on the nature trails at the Refuge. Register here for free! Donations are optional. Any money raised through this event will go to supporting the Refuge and the education program. 
https://support.americaswildliferefuges.org/team/443310
Puddle the blue goose will be joining us for the Walk for the Wild! Make sure you come and see her. 
Bookstore Hours 
Tuesday, Thursday: 8:30am to 4:00pm
Wednesday: 8:30am to 3:00pm
Friday: 8:30am to 3:00pm
Saturday: Closed
The Auto Tour is open and we have the observation deck funded by the Friends of the Bear River Refuge. Feel free to come check it out!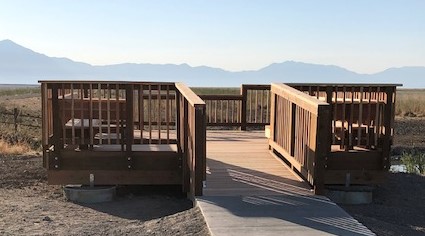 Want to contribute?
Make a one-time donation today to the Friends of the Bear River Bird Refuge today!